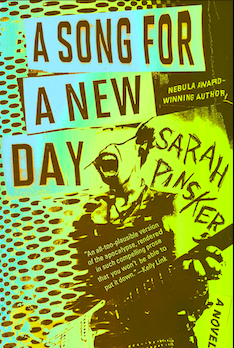 In February, my bandmates and I boarded a plane for a two week concert tour of New Zealand and Australia. For the long flight I brought an Ipad full of Ozark episodes and a book I'd just picked up called Song For A New Day by Sarah Pinsker, which I'd purchased only because the description on the back cover described a narrative about a musician struggling to find her audience in a world where public gatherings are illegal due to terrorism and global pandemics. Being that this was in February, the paranoia about "Coronavirus" was just ramping up with more people than usual wearing masks in the airports and giving hard looks to anyone who so much as sniffled, I thought it might be a timely read. I opened the book and was plunged into a dystopian future that now, just a few months later, is all too real.
As I slowly watched the world around me turn into the plot line of a bad killer virus movie, Icouldn't get this incredibly prophetic book out of my head. I contacted Sarah, the author and asked her if she wanted to talk about her book and how it feels to write a science fiction novel that basically came true a few months after publication. Thankfully she agreed.
JIM: I read your book when I was flying down to Australia in February and we were already in the situation where people were wearing masks.  Now months later and we're suffering through what looks like to be one of the worst pandemics in modern history, I still can't believe how prophetic your book was.
SARAH: It's kinda weirded me out myself.
JIM: Before we get into all that, you're a musician and an author, and your book at its core is about the power of live music to inspire and help us transcend the tedium of everyday life. What made you want to become a musician and a writer? 
SARAH: I always wanted to play music. I got my first guitar when I was 13. My cousin gave me a Les Paul knock off and I just knew the thing you're supposed to do was to play loud. So I just wanted to play. I think I started with like friends' bar mitzvahs, but that was it. I started writing stories when I was a kid and I was like, "Ok, then you're supposed to send them out," and with music it was "Ok, and then you're supposed to play live." I don't know the connection that was going in my brain, but it just seemed the thing to do. So I started my first band when I was 13, because I thought that was what you're supposed to do if you get a guitar.
JIM: You're obviously a very creative person and needed that outlet, and that's dramatized in the main character in Song For A New Day, in that it's almost like she has an innate need to play live and have that connection with her fans. The character, Luce Cannon, is a rising singer songwriter who was taken from your Nebula award winning novelette "Our Lady of the Open Road," where she's facing dilemmas whether or not to sell out to the big major media behemoth. What made you want to take this character and turn it into a larger novel and have her do battle with this dark, and now all too real dystopian future?
SARAH: She was the easiest character I ever had to write. She's not me or anything like me in my head. She's actually way better than me, so I guess there's sort of a wish fulfillment there, but she's probably an exaggerated version of me who's a lot more resistant to technology. That first draft of the novelette was like 15,000 words and I wrote it in two days, which is not how I usually write. It just flowed. And there wasn't a whole lot that needed to be changed. It was maybe a two draft story. And so I sold it and it won some awards and then a couple of agents came knocking and said, "Do you have a novel? And I said, "Well, I'm working on one as I go" and I realized that would be the thing that I would write the fastest and easiest, but it still took a couple of years to get it right. So even though the novel only came out six months ago, and it seems very topical now, I wrote it from 2015 to 2017. So I guess I was oddly sort of living with this situation in my head for a while, but I jump over a lot of the part that we're living in right now. Some of it is in there in the novel and some of it just jumps from this to the next bit.
JIM: I think one of the best reviews I read of the book said "You'd better keep a copy of a 'Song for a New Day' with you at all times because this book will help you survive the future." Did you set out to write a musician's survival guide?
SARAH: At the time that I'm writing anything, I'm writing that person's story. I'm not thinking of it in terms of a moral or a guide or anything like that. Luce was a character I could live in and tell her story. I guess the thing that she believes in are pretty easy for any musician to believe in and to espouse. So I guess in that way it is sort of a 'guide' of some kind. I don't know how I hit that particular nail on the head, except that it seems like common sense stuff to me. The thing that most of the book is dealing with later when things go on longer than they need to, but if you're looking at something like right now, I think that we can also see around us musicians doing exactly the thing musicians should do, which is playing in whatever way that they can, and rallying people and keeping their spirits up and doing all the wonderful things that music can do.
She's a little anti technology, but I think for us it's about community-building now. So she got some stuff right and some stuff wrong, and so probably I did too. I did a reading on Tuesday, March 10th, and I wanted to read a different short story that was not about this and what was on people's minds, but I also read the two pages from the book that are sort of in my head, and I think about them as, "Don't forget normal." It's the two pages where, she and her roommates are writing on the wall all the good and bad things that they want to remember. The stuff like 'crowds at the mall at Christmas time,' and 'outdoor concerts' and whatever. That's the thing, "Don't forget normal." I think we're sort of at a moment where maybe some of the things that were bad about normal can maybe get fixed. Like, if you see the bill, some of the bills they're working on and some of the, the short term compassion we're seeing from businesses. I got a letter from our Gas and Electric company this morning saying that they're not going to be doing any shutoffs, and I think the water company did the same. And the bill in front of Congress, and universal basic income which lots of people have been advocating for a long time. And so they're talking about no bail or the cash bail system being broken and getting out some of these nonviolent offenders they don't need to be focusing on. Maybe we get a chance to revise the system a little bit and keep it from going back. Not everything about the old normal is necessarily right.
JIM: And some of these moral, ethical dilemmas we're facing all the time. That's what I think is interesting about the other main character in the book. It kind of plays into the whole idea that here's these huge media behemoths whether it's Google or Netflix or it's Apple or Facebook or any number of these big media corporations that are so powerful and our only hope is a character like Rosemary who's going to work against that from the inside. She enjoys putting on her VR head set and experiencing music that way, but then also comes to realize through Luce's experience and seeing a real live underground illegal performances that this important element has to be protected as well. Do you think that's part of it? That regular people have to stand up for those freedoms against inevitable huge virtual reality corporations eventually taking the live experience away? Do we represent the resistance in that capacity?
SARAH: Yes, but I wanted there to be multiple sides to it because I think resistance has many facets and that includes the idealistic diehards like Luce who have a very, very strict view of how things should be, but I wanted to also get another perspective in there of someone who could see some of the good but also some of the bad and work as you said, from the inside, someone who didn't hate the way it was now and could see some of the good in it. You can even look at it in terms of people who already couldn't access live music (before live streaming). There's a bunch of basement venues in Baltimore and if you use a wheelchair then those venues are closed off to you, and if you can't drive some of them are not on public transit, and maybe you don't have a smart phone and you can't call a Lyft or something. There are all these ways live music can be denied to you. Even right now, if you are living as someone who is immuno-compromised, because as far as this virus is concerned, we're all immuno-compromised. There are people who were living this way because of health issues already. So acknowledging that some of these access issues are things that we could have done for them already and that if you have both you have maybe a more nuanced view of the world.
JIM: So for Rosemary it becomes where she doesn't like the fact that that her company is then going through and mining these underground shows for talent and then calling them into the police to be disbanded. And it really does kind of go back to your original story, dealing with the issue of selling out. Some of these bands actually do want to get a larger audience and want to sign the major label deal, and if they want to do that it's their prerogative, but when there's abuses with the record label treating the artists unfairly than that needs to be exposed as well. Is that what you intended to address the topic again that there can be commerce but it needs to be ethical?
SARAH: Yeah, absolutely, and I think when it's one company shutting out all the others, you get a lot of the problems too. I exaggerated it in the book so that it's really one company that's holding everything and when you get that you get a lot of throttled information about other options. But different bands have different goals and not every record label is evil. There are plenty that really are there to help you reach a larger audience.
JIM: A lot of science fiction novels envision a dystopia that feels way off in some scary distant future, but yours is set in the very near future. It feels like right now actually. Given the current situation with the coronavirus and concerts and large gatherings being shut down and potentially banned, does it feel like we've begun to enter the version of the dystopia you depict in the novel?
SARAH: It really does. It's sort of terrifying and interesting at the same time. Because I feel like I have a perspective where I've sat on some of these questions for a long time, but I was thinking a little farther ahead. I didn't spend a lot of time on right this exact moment. A lot of what I looked at is how to get past this and come back to something afterward. So I guess in that way it's a little different, but it does feel like we're here in one of the early chapters, which is not an ideal place to be. You never want to be in the early chapter of a book.
JIM: Especially a dystopian science fiction book!
SARAH: And I'll tell you something I did not actually, until they put the label dystopia on it, have that thought in my head. It was just a bad future we'd want to avoid, but for some reason the word 'dystopia' didn't come to my mind until they started using it.
JIM: In your book, it's twofold. It's the concern about deadly viruses spreading at crowded events and about terrorist attacks. You said you started the book in 2015 and since then we've had,the horrendous attacks in France and the Bataclan theater, a place that I've played several times, and then the Arianna Grande concert. In your novel, all these terrifying things that jeopardize the future of live concerts, and sporting events and other large gatherings have already happened! Is that something we have to consider? To the character in the book live music is what it's all about, and feeling the energy of the crowd and being in a dark, sweaty club, all the danger of rock and roll, and it just feels to her that with VR, all that is going to be taken out of it. At the same time, we also have to be responsible about putting people in harm's way. So is your hope that we can find a way to somehow preserve both and maybe just get better at it?
SARAH: Yeah definitely. I mean, I think the thing that we're doing right now is an act of compassion. So I feel like that's another thing that I got wrong is that this moment, right this second is us reacting in an extreme way in order to protect healthcare workers in order to protect the most vulnerable people among us who may not be the ones who go to the show but are going to be affected nonetheless if you come home and deliver something to them. I think if you look at it that way as for a temporary length of time, it's an act of compassion, then it becomes an active community in solidarity in, and it becomes more important to find all those ways of getting around the isolation, whether they include just going to online shows only for a while. There's a club in downtown Baltimore, The Soundstage, that is renting itself out as an empty venue if anyone wants to record a show there, so for the time being when we have a very infectious virus going around you have to do that. But I do believe the community can find ways to reach people even in isolation and from isolation. I've watched a bunch of these shows that have been playing every night and I think it's actually a really beautiful thing, but for a live band like you do miss that audience response. It's also weird watching a late show without any laughter. So I feel like there are things we have to remember and there's also going to be a little time where we have to figure out how to do things in other ways and then we can decide which ones we can keep and hopefully make sure live music is one of them.
JIM: I have every confidence that the big wheel of business is going to find ways to put on giant sporting events and concerts again at some point. I think what your book does a great job of is showing that first there is a huge desire for people to go out and play music for fans and that experience is hard to replace, and that the commerce of it, while necessary, has to be ethical and it's up to us to find out what that looks like. We announced we had to cancel a tour of South America and probably the second response on our instagram was someone saying that it "wasn't very punk rock of us" to cancel!
SARAH: But punk rock is about community and it's not really very community positive to spread disease to everyone in the audience! I think there are people who are finding ways around the system right at this moment and we have to protect that. So you have the people who are doing Facebook Live shows, but asking people to tip through PayPal or Venmo or whatever. Another cool Baltimore thing, there's a venue called the Creative Alliance, which is naturally going to be concerned about their own existence, but they're teaming up with musicians and offering to book shows where a local musician will come and play live on your street at a distance. So they'll come to the gate of your house and play a few songs for you. You can book half an hour, an hour. Part of the money goes to the artist and the other part goes to the venue that's doing the booking. And I thought that was, that was a really a rad bit of problem solving!
JIM: Absolutely. I mean that's the idea we're getting at is that these situations, although they're tragic and can be terrifying, this is how we come up with new, creative solutions to discover what we can do together as a community. Just this morning, one of our merch guys started a GoFundMe page for all the touring road crew and tech guys who are out of work right now and they met their goal in just a few hours. There are a lot of people out there who enjoy the live music experience so much and it's such a part of their lives they are ready to step up and help and do whatever they need to bring it back.
SARAH: And hopefully our governments will step up and help with credit payments and get some income flowing to people, regardless of what they make or how they make it, and whether they're on payroll or not, to help all the small businesses and people who work for themselves. We can't single handedly do it through GoFundMe. There needs to be policy and effective leadership.
JIM: Amen. Your novel definitely inspires that kind of positive change, so here's hoping that only the best parts of it actually come true. Thanks Sarah!